It may sound strange but when holidaying in Phuket, a much better way to enjoy your holiday is to get off the island. While Phuket Island is stunning, diverse and fun, has some of the most amazing beaches, cultural towns, beach resorts and private villas but it is around Phuket (the largest island in all of Thailand), that you'll find so many more little gems to explore. Tiny tropical islands that mimic paradise are only a hop, skip and boat ride away, easily accessible from Phuket.
There are quite a few… so take 10 minutes and enjoy our thorough review of islands around Phuket to help you decide which ones should be on your bucket list for your Phuket holiday.
An archipelago of 9 islands up north: Similan Islands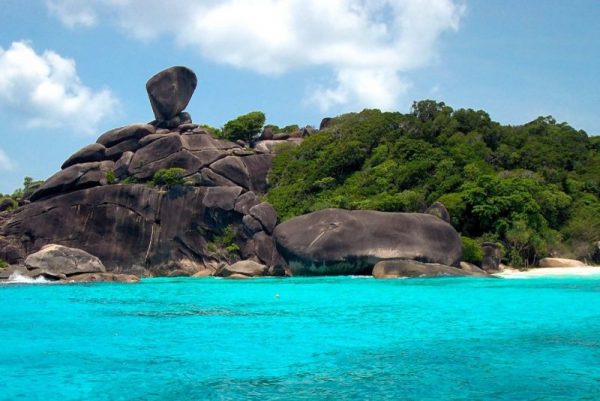 The Similan Islands National Marine Park is a paradise-like place located 119 km northwest of Phuket. The marine park is home to 9 pristine little granite islands and it is one of the most famous island groups in the Andaman Sea. Around the islands, there are stunning coral gardens alive with colours you never knew could be so bright underwater. This guarantees some incredible snorkeling and diving experiences.
There are also gorgeous nature trails where you can spot exotic birds if you are a nature lover. The marine park is open for visitors from approximately 15 October to 15 May, although dates may vary a tiny bit every year. The beaches are amazingly picturesque but the most striking of all are the giant boulder rocks towering up into the sky. We recommend a live-board 4-day boat trip to the Siliman Island for a one of a kind adventure.
Getting there:
Take the boat from Chalong or Patong in Phuket and you will reach the island in around 4 hours. You can also head over to Khaolak on the mainland of Thailand further up north from Phuket ( 115 km from Patong). From there, it's just 50 km to get to the Siliman Islands. There are plenty of tour operators who offer day trips, or you can choose to also stay overnight in a tent or bungalow on one of the islands (Ko Meang – island #4). The marine park's entrance fee is 500 THB per person.
The most famous of all: Phi Phi Islands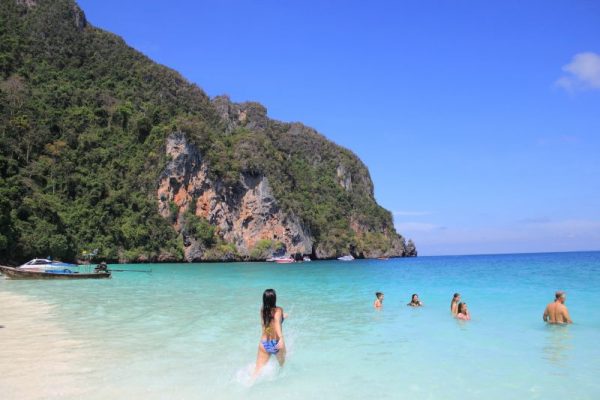 Koh Phi Phi is one of the most famous and popular islands in southern Thailand and it was featured in the Leonardo Di Caprio movie The Beach. The island is located roughly somewhere in between Krabi and Phuket and it takes around 2 hours to get there from the harbour in Phuket. Surrounded by emerald and azure waters, cliffs, rock formations and powder white sands, it is no wonder people flock down here to get their personal 'The Beach' experience.
Getting there
It's a 90-minute ride with the boat ferry and just 45 minutes on a speedboat to get to the Phi Phi Islands. The boats leave from Rassada Pier and Sea Angel Pier in Phuket.
Excellent diving for beginners: Racha Islands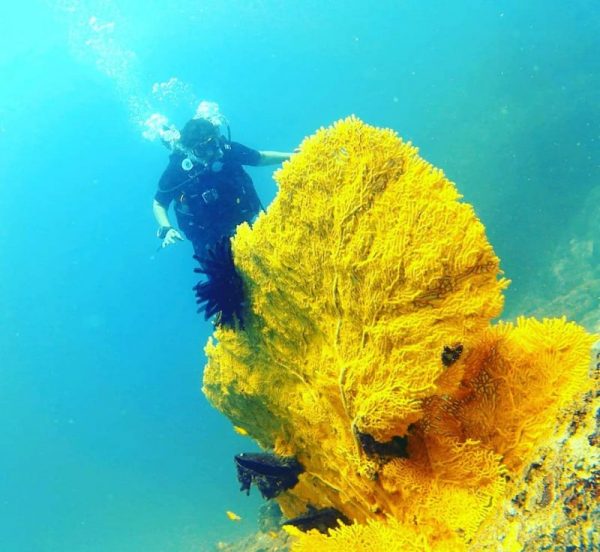 Just 12 km south of Phuket, Racha Islands (Racha Yai (big) & Racha Noi (small) ) are two stunning tropical islands that are famous for the incredibly clear diving and snorkelling spots. What's even better, they are perfect for beginners. There are 3 resorts on Racha Yai and Racha Noi is an uninhabited island with nothing but rocks and beaches.
Getting there
To get to the Racha Islands, you can take the boat from Chalong Pier or Rawai Beach. The ride takes around 35 minutes and it costs between 8,000 and 1,2000 THB. You can also book a day tour with an operator for a full day of scuba diving or snorkeling around the Racha Islands.
Day trip favourite: Koh Bon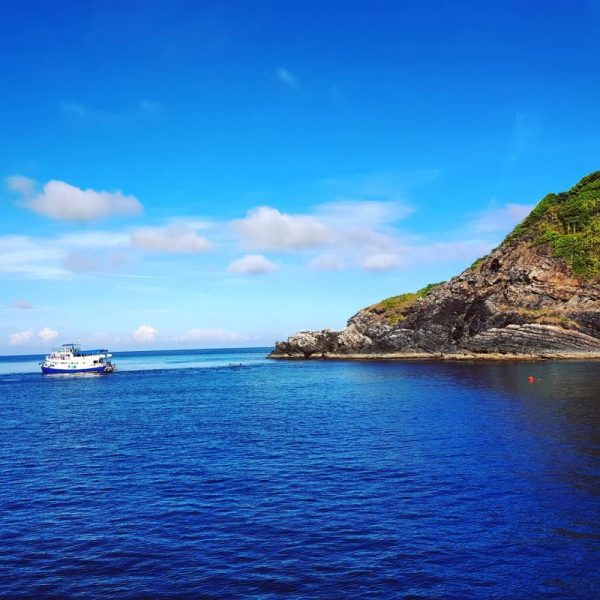 This little island is easy to reach, just a 15-minute boat ride from Rawai on the mainland of Phuket. Great for a lovely day trip involving swimming and sunbathing on a tropical island. Have lunch at Bon Restaurant and laze the day away. It's wonderful! Koh Bon is also perfect for diving and snorkelling.
Getting there
Hire a longtail boat in Rawai and off you go. The boat will drop you either at Long Beach on the northeastern side of the island or at Koh Bon Restaurant located in between 2 beaches on the northwestern tip. A longtail boat should costs around 1,000/1,2000 THB for a return trip. Just let the captain know what time to pick you up.
Home to Banana Beach: Coral Island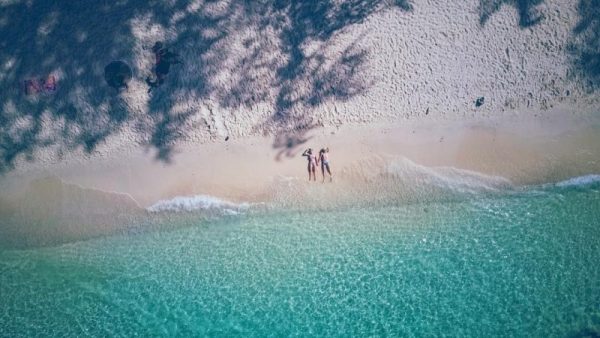 The official name of Coral Island is Koh Hae and it is home to the famous Banana Beach (not the be confused with Banana Beach on the mainland near the airport). Just 3 km southeast of Phuket, it takes just 15 minutes to get to Coral Island. Needless to say, it's a popular island and it tends to get crowded. The softest sands and the clearest waters; this is another great place to go swimming, snorkeling or scuba diving. You'll also find plenty of options when it's time to relax- sunbeds on the beach, restaurants and plenty of shade to stretch out under. Should you want to spend the night on the island, there is one resort on the island over at Long Beach.
Getting there
The average price to get to Coral Island from the mainland in Phuket is 2,200 THB, including a pick-up from your private villa in Phuket. The boats leave from Chalong Pier. You can also take a longtail boat from Rawai or Chalong.
The name says it all: James Bond Island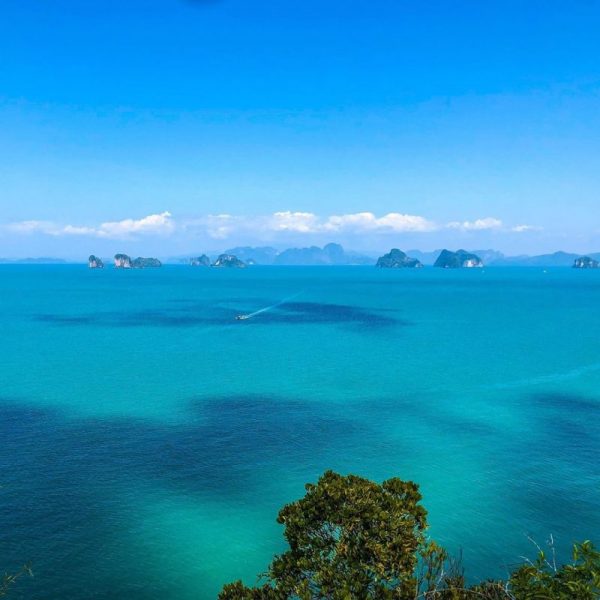 The original name of this island is Koh Ping Kan but everybody knows it as James Bond Island. How come? Well, Koh Ping Kan was once the film set of the 1974 Bond Movie 'the man with the golden gun', starring Roger Moore and Christopher Lee. James Bond Island is located in Phang Nga Bay surrounded by limestone cliff rocks and emerald, turquoise waters. It's a very scenic place, however, the island has become a massive tourist attraction over the years so don't expect a desolate beach. Think of many fellow-travelers and lots of vendors instead….not great if you're not a fan of crowds.
Related: Nature's Wonders in Phuket
Easy to reach & lovingly tropical: Koh Khai Islands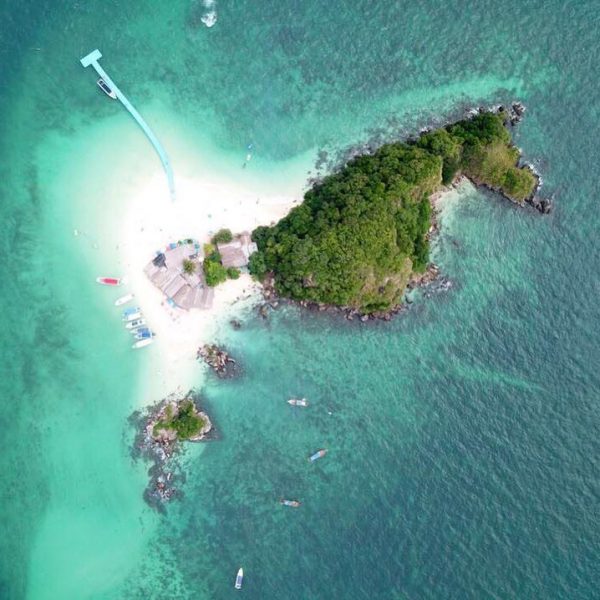 Koh Khai Nai, Koh Khai Nui, and Koh Khai Nok is an island group just a 15-minute boat ride away from East Phuket. The warm crystal clear waters are perfect for a lazy day of swimming and snorkeling. Koh Khau Nai has bamboo huts where you can eat, drink and shop for souvenirs. There are tours available to see all 3 islands in one lovely day trip from the mainland. The Kho Khai Islands are popular, so it's a great place to meet like-minded people if you're looking for travel buddies.
Do note, feeding the fishes here is illegal.
Getting there
Speedboats and long-tail boats paddle between Phuket and the Kho Khai Islands regularly every day until 6 pm. The speedboat takes just 20 minutes to get there.
The small & the big island: Ko Yao Yai and Koh Yao Noi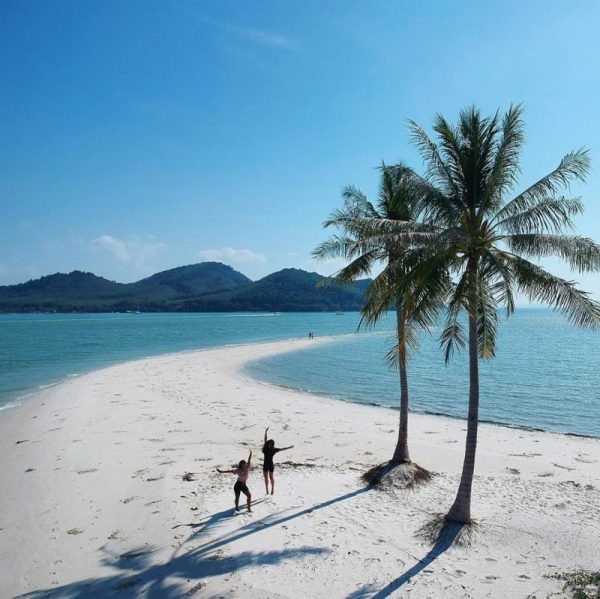 These fairly large pristine islands, Koh Yao Noi and Koh Yao Yai, are located in the heart of the pristine Phang Nga Bay. a wondrous place to go hiking, snorkelling, kayaking and swimming. Koh Yao Yai is the biggest and quietest of the islands. A quiet place where life has stood still. Koh Yai Noi has several luxury resorts for those travellers wanting to stay overnight.
Getting there
From Bang Rong Pier on the east coast of Phuket, you can catch the ferry or hop on a longtail boat to get to Koh Yai Islands.
Coconut Island: Koh Maphrao
Also known as 'coconut island', Koh Maphrao is just a very short boat ride (600 meters) from the Laem Hin Pier in Phuket. Around the island, there are mangrove forests and white sandy bays. In between the mainland and Koh Maphrao, there are floating restaurants for a unique dining experience on the water. Apart from swimming and relaxing, it's also fun to rent some kayaks and go explore the mangroves.
Getting there:
From Laem Hin Pier in the north of Phuket, it takes just minutes to get to Koh Maphrao.
A heart-shaped island: Koh Kaeo
There are 2 Koh Kaeo Islands. The heartshaped Koh Kaeo Yai and the smaller Koh Kaeo Noi. A replica of Lord Buddha's footprint it to be spotted on the beach on Koh Kaeo Yai and you can also see a striking golden Buddha statue facing the ocean. Beneath the surface of the sea, you can explore beautiful coral reefs and swim in warm water. A true little paradise it is.
Getting there:
You can reach the islands in 20 minutes from Rawai in the south of Phuket.
A little gem in Phang Nga Bay: Koh Hong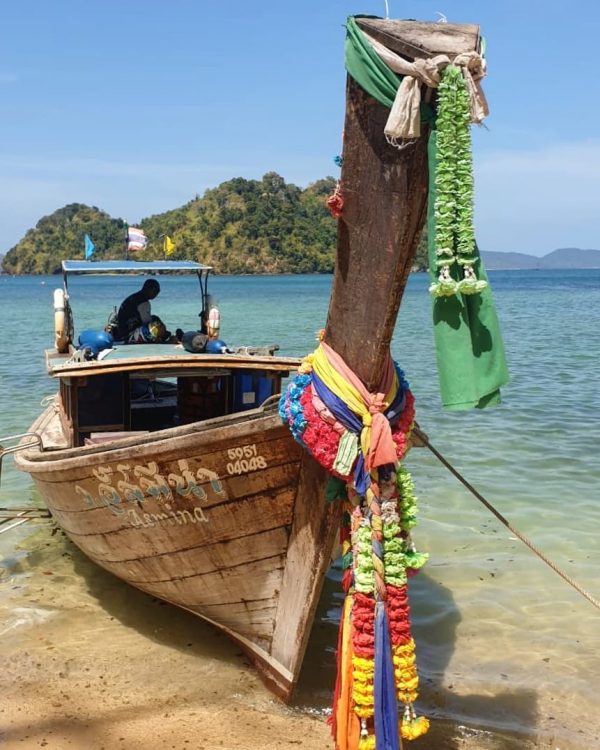 Yet another island in the gorgeous Phang Nga Bay east of Phuket is this little gem: Koh Hong. Emerald waters, towering limestone rock formations and just 1 stunning beach captured in between the rocks, you can really feel like Robin Crusoe, ready to get off the island in a kayak and start a new journey.
Getting there
It takes less than 1 hour to get to Koh Hong by speedboat or longtail boat.
Floating village in Phang Nga Bay: Koh Panyi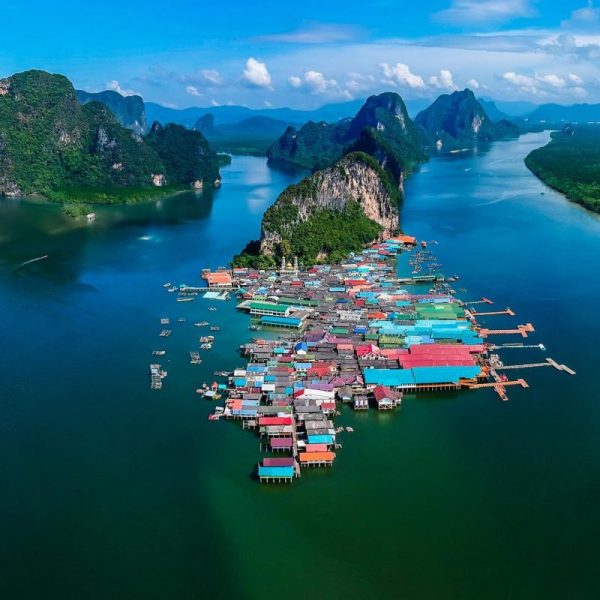 Koh Panyee is a special place near James Bond Island in Phang Nga Bay. What makes this island stand apart from the others? Well, it is home to a traditional Thai fishing village almost entirely built on stilts in shallow water. The village has its own mosque, health centre and school and there are lots of souvenir shops and restaurants where you can get your fill of freshly caught seafood. The people are very friendly. Do note, most of the people in this community are Muslims. Be thoughtful and dress appropriately (nothing too revealing such as short skirts, shorts, tank tops and bikinis).
Getting there
Koh Panyee is located in Phang Nga Bay. From Surakul Pier, you can reach the island in 20 minutes on a longtail boat. It's not cheap but it's worth it for you won't see any other island like this around Phuket.
Looking for a private pool villa in Phuket? Check out our villa collection. Selected and inspected by Villa Finder.